Our group were very pleased again this year to have been afforded the opportunity of appearing at the festival to read out some of our short story compositions to a mixed audience. The venue this year was not as central to the action as we had been in previous years but it did not deter interested parties from coming to see what we do.
Having arrived early to watch the Looe writers group and then awaited while they departed with their family members, we were introduced to the remaining audience by our organiser and facilitator Jean.
First up was Mary Hickman delivering a very light hearted family story of a small girl meeting new neighbours in a piece entitled "The Dragon Tattoo". Delving deeply into the magical world of make believe and how a very small child views the world she kept us entranced with our imaginations conjouring up jungles, big cats, giants and dragons, receiving a very well deserved around of applause as she finished.

Next up was our Boscastle member Peter Hopkins reading a piece entitled The Road Not Taken, an excellent story involving fate with a twist in the tail to keep you thinking.

Bringing something totally different to the proceedings our third encumbent was Jennifer De-Ville supported not only by her fiance in the audience but also by our own Beverley reading out the stage directions from her very amusing stage play entitled Rumble in Paradise - Drama in Olympus. This had the audience in varying stages of laughter throughout and was given the smiles, I think as enjoyable to read as it was to listen to.

Fourth to take the lectern was our illustrious leader Jean Wills with a ghostly tale entitled "The Widows Walk", stories of sea battles during the first world war and an old house wih a ghost waiting for her husband to return from sea, keeping our listeners on the edges of their pews. Well received and Jean handled the interruptions well, of the door at the back of the church as it went through a very busy period of comings and goings.

Then it was the turn of our other male reader of the afternoon, Michael Doig who announced that following an assignment to compose something around the subject of gravity he had looked at one of the novels he was working on and decided it would also form part of that and so it doubles as an excerpt. With the intriguing title of "Gravitology" it is a comedy based science fiction piece based around two astronauts following take off playing a silly game of one trying to catch the other out in a debate over scientific terms of genre, that is if they are 'ologies or not. The audeince enjoyed the change of pace as we again went to a lighthearted piece making them laugh.

Now another change, back to a story with a twist in the tale, "The Island" a washed out day out for two friends, was brilliantly written and expertly delivered by its author, Linda Brice.

Next up, our seventh reader was Mary Curd with an intriguingly light story of espionage entitled "The Drop". Very short in length, flash fiction, it involves a park bench a woman and a man and an audience.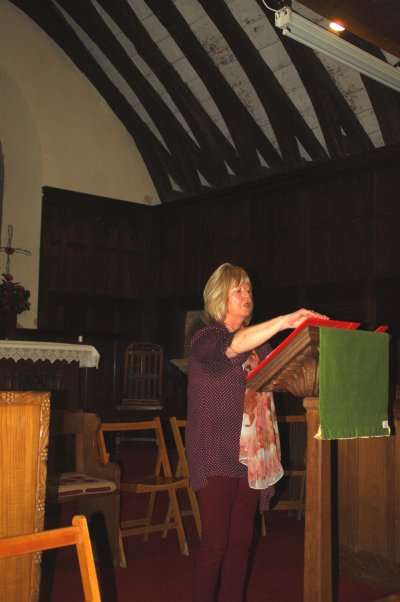 A seriously reflective story called "Believing" was next from our very own Beverley Etherington. Keeping our attention throughout it left many of us with an awful lot to think about. Loneliness, destitute and desperate, choosing right from wrong and finding a welcoming gesture saves the heroine in the end.

Over half way and "A Dryads' Story" was next, from the expert pen of Peter Hopkins, as Fairy Stories go this was a thought provoking tale of a man who felt he had nothing to live for, only to find out that to do anything has an infinitely better chance of succeeding than to do nothing at all. Quite a diversion from Peter's normal genre but he really pulled the stops out for this extraordinarilly marvellous piece of work.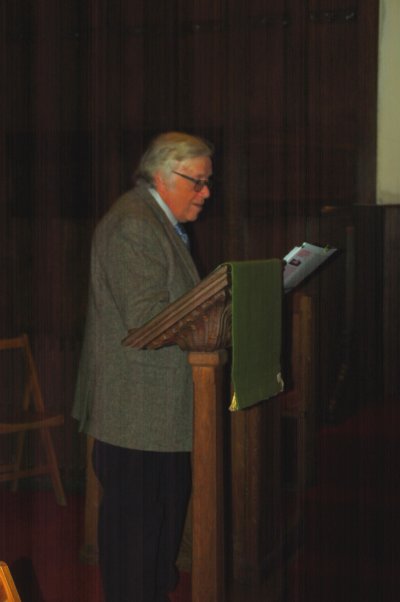 Unfortunately our travel writer Stephen Richards was not able to come so the lovely Mary Curd stood and read out his entry to the festival entitled "The Old Neighbour", a mystery based around an old house, a bicycle and an old man that got you feeling his ghost was just around the corner ready to pop out.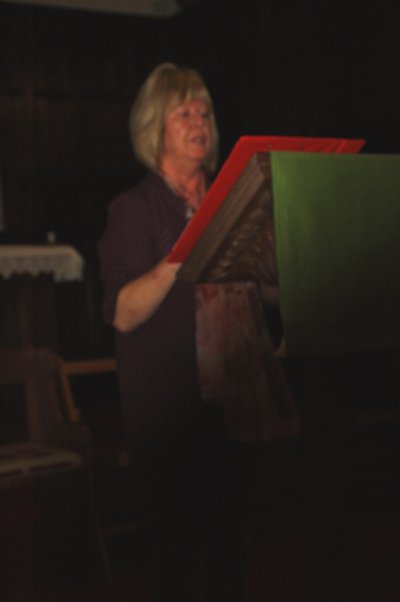 Another of our assignments in the past year had us writing something to do with the theme biscuits and imaginatively that became the name of the eleventh piece of the afternoon fromt the desk of Linda Brice. A story of infidelity, amnesia, an airborn missile in the shape of a tin of beans and a return of a wayward husband, all because of a darn packet of biscuts leading to a light hearted comedy that had us all chuckling again.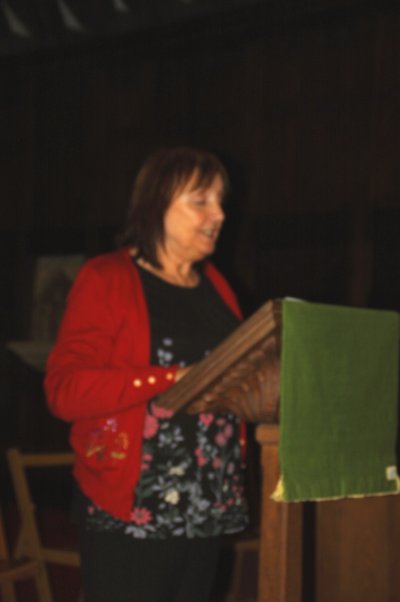 The inspiration for Mary Hickman's second piece of the afternoon was an assignment to include a pony, a garden centre and a stormy sky. Although she says her piece "A Pony in A Garden Centre" is a serious and reflective piece, it also had some smattering of comedy in it as the younger brother became fixated with the term Pony which had earlier been introduced to him as a term for an amount of £25 when talking in betting terms, but later could not get his brothers attention when trying to tell him there was a pony loose in the garden centre where they worked. A really gripping tale with lots to offer.

The rules of etiquette played its role in our next reading from Jean Wills, the second of the afternoon to be based around the assignment gravity. "The Gravity of The Situation" led us into the awards ceremony and a jobsworth of an usher and the hotel manager that would not allow the major award winner of the afternoon into the ceremony as she was improperly dressed, in a trouser suit of all things. A very interesting comedy and play on words, so very masterfully executed by our group leader.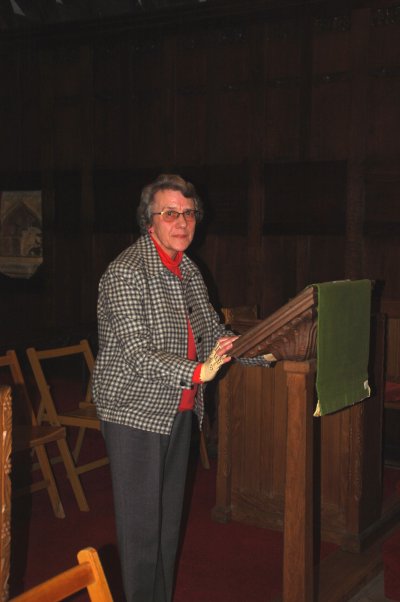 "How Did She Do It", a magical excursion into comedy saw Mary Curd deliver her second piece of the afternoon. This came from a very tasking assignment where the other Mary of the group had fetched in a completed crossword and challenged us to create a story that included every word that appeared in the answer grid.


Next to being a very accomplished short story writer, Beverley Etherington has also shown us how talented she is with the art of poetry flowing from her pen in the serious verse "On Visiting an Ailing Parent" , probably the shortest but most impactful piece in the programme.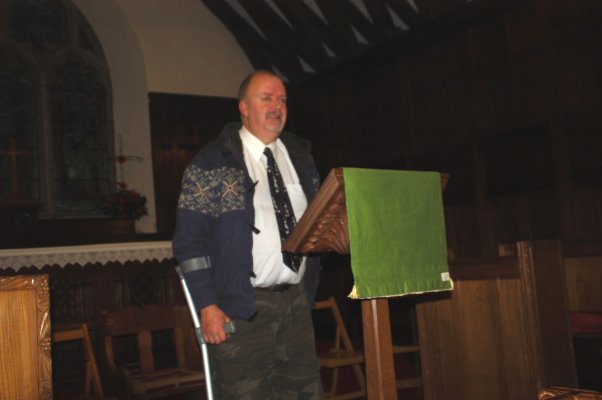 Last up, it was the turn of Michael Doig again with another light hearted rendition, this time in form of a memoire cum biography of his late grandfather who was indeed a referee, scout and club secretary and did break the crossbar of a senior cup semifinal in the mid 1930's by kicking a ball at it. Entitled "Tommy", also his grandfathers name, this runs as the narrative of one of the linesmen first meeting Tommy at this game and ending up being life long friends.
Finally it was down to our lovely Beverley to sum up the proceedings, explain how we work once more and in closing thanked everyone for coming to support us and the Looe Literary Festival organisers for doing such a wonderful job of setting up the event and giving us the chance to portray our wares.

66 We are a group of people from varies backgrounds who, twice monthly, contort and torture our brains to create a piece of writing to order. It is no mean feat and without the support and encouragement of each other, I doubt any of us would be so disciplined or prolific, but at the heart of our endeavours is a love - a love of storytelling.
Storytelling should never be underrated - it is a tool for passing on history and tradition; a vehicle for knowledge and teaching; a system employed by many faiths to explain their commitment and belief; an exercise in imagination and creativity, but most of all, it is entertainment. 99